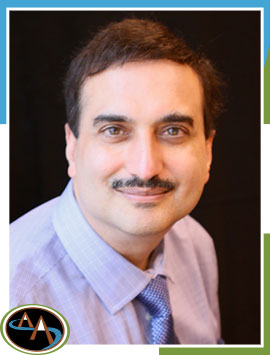 Sanjeev Jain, MD, PhD
Allergist located in the Pacific Region
Dr. Jain and his team of allergy specialists treat a wide variety of allergic conditions, such as food allergy, skin allergy, pet allergy, asthma, eczema, and hives. Call your nearest location to book an appointment.

‍Sanjeev Jain, MD, PhD, is a renowned allergist and immunologist practicing at Columbia Asthma & Allergy Clinic, which has 12 Locations in Fremont, Oakland, Redwood City, Sunnyvale, San Mateo, and San Leandro, California; Clackamas and Gresham, Oregon; Bellevue, Fishers Landing, Longview, and Salmon Creek, Washington; and Eagle, Idaho.

Dr. Jain attended the allergy and immunology program at Yale School of Medicine at Yale University in New Haven, Connecticut. He earned a joint medical and doctorate degree from the University of Wisconsin-Madison in Wisconsin and completed his residency at Dell Medical School at the University of Texas-Austin in Texas.

Double-board certified in allergy and immunology and internal medicine, Dr. Jain has held teaching positions and practiced at the University of Washington School of Medicine in Seattle. He specializes in immunotherapy and has helped numerous patients get rid of their allergies or significantly reduce their symptoms.

In Dr. Jain's experience, nearly all allergies can be treated by identifying a patient's triggers and using various immunotherapies to help them return to normal lives, free from emergency hospital visits. Known as one of the finest allergists in the Northwest, Dr. Jain was one of the first doctors in the world to completely desensitize patients from shrimp allergies.

Dr. Jain has also won numerous awards and has been consistently listed as one of America's top physicians over the past several years.
Courtney Flynn
F.N.P.
Courtney Flynn graduated from Johns Hopkins School of Nursing with a Bachelor of Science in Nursing in 2004. She spent four years working as an inpatient pediatric nurse prior to joining Idaho Allergy in 2008. Courtney worked as a Registered Nurse for Idaho Allergy while completing her Master's as a Family Nurse Practitioner at Idaho State University in 2010. Courtney is an associate member of the American College of Allergy, Asthma, and Immunology.

Jenny Stear
PA-C
Jenny graduated from Boise State University with a Bachelor in Health Science in 2006. She spent time in research and as an Emergency Department technician before obtaining her Masters. She graduated from the Duke University Physician Assistant program in 2010. She worked in Orthopedics prior to joining Idaho Allergy in April of 2016. Jenny is a member of the American Academy of Physician Assistants and American Academy of PAs in Allergy, Asthma and Immunology.